PRIVACY STATEMENT
1. Scope of the Privacy Statement
AB&C Group is made up of the following organisations:
AB&C Groep B.V.
Aeves B.V. and Benefit Inkoopadviesgroep B.V. (trading as AevesBenefit and Aeves Interim Management)
Het NIC B.V.
Procumulator B.V. and proQure B.V.
NewDawn B.V.
Boer & Croon Executive Management B.V., Boer & Croon Management Solutions B.V., YESS International Consultants B.V. and Van der Kruijs search + selectie B.V.
The Privacy Statement applies to all organisations in AB&C Group. For the sake of readability, we use the name 'AB&C Group', in what follows, for all organisations mentioned above, unless otherwise indicated.
This statement sets out how we process the personal data we obtain from our contact with you. It is part of our Privacy Policy, by means of which AB&C Group complies with the provisions of the General Data Protection Regulation (GDPR).
2. Services
AB&C Group facilitates high-quality business services focusing on consultancy, secondment, interim management, outsourcing, recruitment & selection, digital transformation, executive search and talent development. AB&C Group comprises nine companies.  We are a market leader in procurement and contract management, boasting a strong position in transformation consultancy, interim management (at tactical and strategic levels), PMO and project and programme management in all industries. Our strength lies in facilitating growth while helping companies to retain their core values, DNA and culture.
3. Collected personal data
AB&C Group processes your personal data if you use its services in order to work with you professionally and/or because you provide the data to us yourself. In doing so, we do our best to protect your data.
The following is an exhaustive list of the personal data that AB&C Group processes for various purposes from anyone who is not employed by AB&C Group: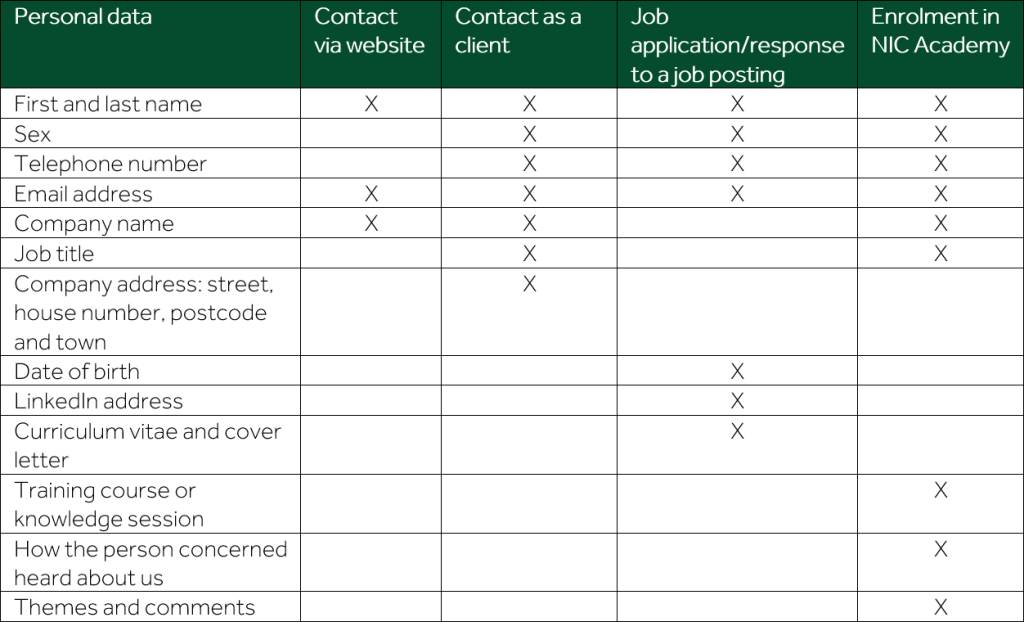 The purposes for which AB&C Group may process your personal data are set out below:
providing our services, including sending emails to evaluate our services, communications, invoicing, and drafting employment contracts;
providing general information, including sending newsletters;
obligations arising from laws and regulations;
legitimate interest, allowing us to contact you.
4. Security
We use the 'SSL/TLS' security system for the website and the other online systems that AB&C Group uses. This means that the connection is secure and that you supply data to us through a secure connection. This technology offers maximum security and is therefore also used, for example, by banks to secure data during online banking. You can tell from the symbol of a key or closed lock in your browser's status bar that your data is being sent encrypted.
For email traffic, AB&C Group uses the highly secure Microsoft Outlook within Office 365. All data are stored in the Netherlands through HandsOn Venlo, which is ISO 27001 certified.
5. Data from your website visit
We obtain data when you visit our website, like data on how you found our website. We use these data to get a clearer picture of our current and potential clients and job applicants. This allows us to improve our website and services so that they meet your personal preferences better.
We also use Google Analytics on the website to analyse the operation of the website and measure the performance of traffic sources. Google may provide this information to third parties if Google is legally required to do so, or to the extent that third parties process the information on Google's behalf. We do not have any control over this. AB&C Group does not allow Google to use the Analytics information it obtains for other Google services. The information Google collects is anonymised to the greatest extent possible. We only register IP addresses in the dashboard.
5.1. Cookies from AB&C Group
When you visit the AB&C Group website, we place three types of cookies on your device (a computer, laptop, iPad or mobile phone): functional (to be able to log in again), analytical (from Google Analytics), and tracking and marketing cookies (LinkedIn, Twitter and Facebook). Since June 2018, the last type of cookie has been optional for website visitors. See our Cookie Statement on our websites for more information:
5.2. Cookies from social netwerks
Our website includes links/buttons for promoting certain web pages, i.e. social networks like LinkedIn, Twitter and Facebook. These buttons contain coding that comes from the social media themselves. This coding is used to place cookies; AB&C Group does not have any control over this. Please refer to the Privacy Statements of LinkedIn, Twitter and Facebook for more information about the use of personal data by means of cookie processing.
6. Working method
To provide our services, we use personal data contained in our highly secure database. We include these data if and when you provide us with your details, curriculum vitae and/or cover letter. Whenever you do so, you directly and explicitly consent to us processing your data in our system to provide our services.
Instead of using the website, you can also send us your details by email, we might download your public profile from LinkedIn, or we might obtain your CV through other means and add it to our database. Once that initial contact is made, or no later than one month after discovering your public profile on LinkedIn or receiving your CV from another source, we will ask you if we may process your profile in our database in order to provide our services.
We will then contact you by telephone and/or email for specific assignments or questions. These data are subject to the retention period conditions described below. In all instances, if you do not (or no longer) want us to process your data, we will anonymise them within one month. This means that you always have the right to withdraw any consent you have previously given. If you do so, we will not contact you in relation to our services any more.
6.1. Decision-making process within AB&C Group
According to the GDPR, the Privacy Statement must describe whether any decision-making at AB&C Group, which could have significant consequences for individuals, is automated. This could cover things like the automatic exclusion of job applicants from a job opening. The information in our database and other systems is searchable. We also use 'robots' to forward emails, for example, to the appropriate processor. However, decisions that impact people are never automated within AB&C Group but are taken by our highly trained professionals.
6.2. Sharing with others
The AB&C Group databases are accessible only to authorised employees of the various AB&C Group companies. If necessary for their position, they are also shown information provided to another AB&C Group company (see Section 1 on the scope). AB&C Group further provides personal data to third parties only if and to the extent necessary and only with the explicit consent of a job applicant or employee.
For the most part, the purpose of this is to perform an agreement (with a client, an intermediary of the client, or an employee). All our agreements with clients or intermediaries of clients state that the other party is to treat your personal data with care. This also applies to other parties processing AB&C Group data, like the leasing company. AB&C Group has concluded data processing agreements with them. AB&C Group cannot provide its services if it does not have your consent to provide data.
AB&C Group is established in Europe and so are its clients. This means that, in principle, AB&C Group does not transfer personal data to clients or international organisations outside the European Union.
6.3. Laws and regulations
AB&C Group also has to provide data to comply with laws and regulations. For example, it has to provide information to the Dutch Tax and Customs Administration at the start of the employment relationship. You consent to this when you sign your employment contract. More information can be found in the employee handbook you receive when you sign your employment contract.
6.4. Provision of information
If you have subscribed to the Job Alert, Newsletters, the Case Law Update or the NIC Academy training emails or if you are a contact of one of our clients, we will send you the relevant information. Your data will not be used for other purposes, unless you explicitly consent to this. You can always unsubscribe using the unsubscribe link in the email. Upon request, we will also anonymise your data and you will no longer receive information from AB&C Group.
A lot of information about AB&C Group is also available on our website, on the social media accounts of AB&C Group and/or our business contacts (LinkedIn, Twitter and Facebook), in trade magazines and on websites like www.inkopers-cafe.nl and www.aanbestedingscafe.nl.
7. Retention period for personal data
We hope that AB&C Group's services will be of interest to you for a long time to come. For example, a person who is rejected for one position may be extremely suitable for a job opening that is published at a later date. Moreover, most professionals monitor developments in their field for a long time. That is why we keep personal data for 5 years by default. After that we will ask you again for your consent to retain the data. If we do not obtain that consent, we will anonymise your data within a reasonable period of time.
For AB&C Group employees: once your employment relationship with us ends or is terminated, we will retain certain data for the statutory retention period. Data that are no longer needed will be anonymised in a timely manner. All data will be anonymised after the statutory retention period.
8. Requesting, changing or removing your data
You have the right to request access to, a copy of, correction of or removal of your data. You may also request a data export of the data we use with your consent. You can also let us know, stating your reasons, if you want us to restrict the personal data processing. To do so, please send an email to the email address at the bottom of this Privacy Statement.
To prevent abuse, we ask you to identify yourself. To make sure that the request was made by you, we ask that you include a copy of your ID with the request. Please black out the passport photograph and citizen service number in this copy to ensure your privacy. AB&C Group will handle your request as soon as possible, but in any event within four weeks.
9. Data Protection Officer
AB&C Group has voluntarily chosen to appoint a Data Protection Officer (DPO) in accordance with the GDPR criteria. This DPO monitors GDPR compliance at AB&C Group and is the first point of contact for questions from the Dutch Data Protection Authority and third parties.
10. Dutch Data Protection Authority
If you have any general questions about the legal protection of personal data or the General Data Protection Regulation (GDPR), you can contact the Dutch Data Protection Authority at www.autoriteitpersoonsgegevens.nl. You may also file a complaint there (via 'Melden' [in Dutch]) if you disagree with how we have handled your requests.
11. Changes to this Privacy Statement
This Privacy Statement is subject to change at any time. Any changes can be found on this page. This version was published in Amsterdam on 15 December 2022.
12. Contact details
Please feel free to contact our Data Protection Officer at any time if you would like more information about this Privacy Statement.
AB&C Groep
Hoogoorddreef 5
1101 BA Amsterdam
Tel: +31(0)20 311 64 99
E-mail: info@aevesgroep.com
Website: www.aevesgroep.com